Moo Moo in a Tutu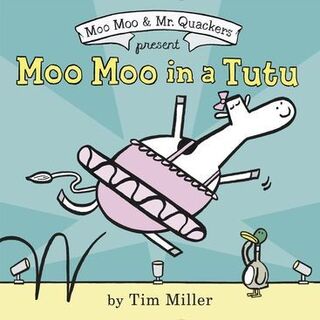 Written by Tim Miller
Illustrated by Tim Miller
In the classic tradition of George and Martha, Elephant and Piggie, and Frog and Toad comes Moo Moo and Mr. Quackers in their debut, Moo Moo in a Tutu—a hilarious and charming story about two pals, a cow and a duck.
Introducing Moo Moo & Mr. Quackers!
Moo Moo: Mr. Quackers, I just had the best idea in the whole world! I've decided to become a ballerina!
Mr. Quackers: Are you for real?!
Moo Moo in a Tutu is a hilarious story about the one-of-a-kind friendship between an adventurous cow and a very loyal duck that will have you quacking up all the way through and applauding for more.ore.